Cockatrice
No image available
Appearance(s):
This Monster is not seen in person in the series, though it is seen several times on moniters in Troop HQ
Height:
Unkown
Weight:
Unkown
Special Abilities:
Can turn things to stone
Floats in midair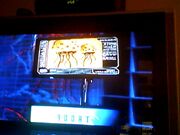 In Captivity
Edit
Unknown
Unknown
Unknown
Troop Notes
Edit
N/A
Recent Sighting(s)
Edit
Unknown
Special Abilities
Edit
Cockatrice are one of the five monster species with the ability to turn things to stone. They resemble green, floating jellyfish.
Ad blocker interference detected!
Wikia is a free-to-use site that makes money from advertising. We have a modified experience for viewers using ad blockers

Wikia is not accessible if you've made further modifications. Remove the custom ad blocker rule(s) and the page will load as expected.