Eris Fairie
Species:
Eris Fairie
First Appearance:
Potrayed by:
Victoria Justice
Likes:
Felix
Dislikes:
Valentine's Day
 (Only when separated from her boyfriend)

Family:
Cecillia (sister)
Other Relationships:
Unknown boyfriend
Felix (crush)

This Eris Fairie went on a rampage in Lakewood High on Valentine's Day until Felix sent her back to her dimension. Her real name sounds like snarls and shrieks to a human.
Biography
Edit
This Eris Fairie lived in the Monster World and had a boyfriend. However, on or before Valentine's Day, she crossed over to the Human World and became marooned there and separated from her boyfriend. Angered that she had been separated from her boyriend, she took her anger out on couples at Lakewood High, using her powers to break them up.
Felix eventually caught the Eris Fairie, and used Dimension Mites to send her back to the Monster Dimension, but not before she revealed that one of the girls in one of Felix's chemistry classes had a crush on him.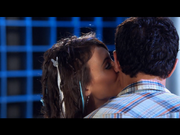 Ad blocker interference detected!
Wikia is a free-to-use site that makes money from advertising. We have a modified experience for viewers using ad blockers

Wikia is not accessible if you've made further modifications. Remove the custom ad blocker rule(s) and the page will load as expected.