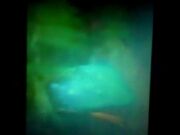 This article's title is a nickname based on evidence.
The Fungus Monster is an unknown monster which, from what can be seen, resembles a large, green toadstool with white spots. In Through the Looking Glass, a Fungus Monster can be briefly seen in the Monster Dimension, moving around in the vegetation.
In the Substitute befindet sich ein Pilzmonster unter den Monstern in Troop Gefangenschaft und es hat den Eindruck das der Teil mit den weisen Flecken lediglich eine Schwanzspitze oder das Ende eines Tentakels ist.
Ad blocker interference detected!
Wikia is a free-to-use site that makes money from advertising. We have a modified experience for viewers using ad blockers

Wikia is not accessible if you've made further modifications. Remove the custom ad blocker rule(s) and the page will load as expected.