"A truly odd-looking creature, the Grootslang has an elephantine head and a long, serpentine body. It actually propels itself through the water using its massive ears. The Grootslang is a passive creature, but because of its alarming appearance, it must be captured and returned to its world."
―The Troop official site's description of the Grootslang
Globular Hydrodragon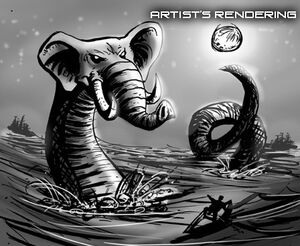 Appearance(s):
None
Height:
2-7' in diameter
Weight:
600-750 lbs
Special Abilities:
Aquatic
Bottom feeder
Passive
The Grootslang is a large, aquatic monster with an elephant-like head and a serpentine body, which uses its giant ears to propel itself through the water. Despite their gigantic appearance, Grootslangs are passive monsters.
Ad blocker interference detected!
Wikia is a free-to-use site that makes money from advertising. We have a modified experience for viewers using ad blockers

Wikia is not accessible if you've made further modifications. Remove the custom ad blocker rule(s) and the page will load as expected.