I, Monster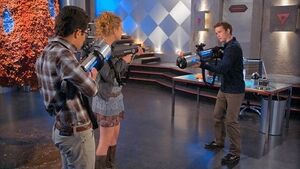 Season:
1
Episode:
13
Director:
Jay Kogen
Writer:
Sam Johnson
Chris Marcil
Original air date:
February 20, 2010
Production No:
115
Previous Episode:
Next Episode:
The Troop is in lockdown until they can figure out which one of them is really a monster.
The Troop has caught a Verci, and they had to lock it down. So, they took it to a cell and contained it. Just when the thought the were done with the Verci, an alarn rung and a monster escaped. So,they started a lockdown and run to the Verci's cell. The cell was empty, but, in the main room, a big cacoon was in the center. The guys called Mr Stockley and he said that the Verci put one of the guys to the cocoon. So, one of the guys were inside the cacoon, and one of them was the monster.
Appearances
Edit
Characters
Edit
Ad blocker interference detected!
Wikia is a free-to-use site that makes money from advertising. We have a modified experience for viewers using ad blockers

Wikia is not accessible if you've made further modifications. Remove the custom ad blocker rule(s) and the page will load as expected.