Itty Bitty Baby Dragon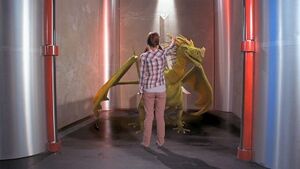 Season:
1
Episode:
18
Director:
Pat Williams
Writer:
Pang-Ni Landrum
Original air date:
April 23, 2010
Production No:
120
Previous Episode:
Next Episode:
After Phoebe unwittingly "adopts" a baby Dragon and Jake and the Troop must figure out how to return it before the mother Dragon finds them first.
to be added
Appearances
Edit
Characters
Edit
Ad blocker interference detected!
Wikia is a free-to-use site that makes money from advertising. We have a modified experience for viewers using ad blockers

Wikia is not accessible if you've made further modifications. Remove the custom ad blocker rule(s) and the page will load as expected.