Jadence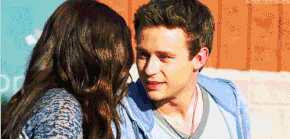 Shipped Characters:
Length of Relationship:
June 25, 2011-July 23, 2011
Start of Relationship:
June 25, 2011
Status:
Ex Bpyfriend and Girlfriend; Friends
Ship Rivals:
Jake: I could draw you!

Cadence: "So you think I'm pretty?"
-An exchange between Cadence and Jake in The Triangle.

The relationship between Jake and Cadence, better known as Jadence, is the romantic pairing of Jake Collins and Cadence Nash. They dated for a while but are now just friends. They almost kiss in Oh, Brother but Jake falls on his skateboard when he does Cadence just laughed as if she didn't mind.
Cadence's Opinion of Jake
Edit
When Jake was about to ask Hayley on a date Cadence tricked him into asking her. But their date turns out not to be that bad because it seems Cadence and Jake have some things in common like: comic books, foozeball, etc. When Jake shows her his comic book he's making she ask if thats Hayley and he says he draws every girl he thinks pretty,he also said he thinks Cadence is pretty. They dated for a while, but broke up. After a reconcile, they are now friends.
Jake's Opinion of Cadence
Edit
Cadence is a bad girl who likes to cause trouble. In the Season 2 premeire, she tricks Jake into going on a date with her. They dated for a while, but they broke up and are now just friends.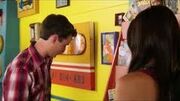 Jadence Moments.
Edit
Cadence tricked Jake into asking her out.
Cadence seemed to have fun on their date.
Cadence was about to puch Hayley for stealing Jake.
Ad blocker interference detected!
Wikia is a free-to-use site that makes money from advertising. We have a modified experience for viewers using ad blockers

Wikia is not accessible if you've made further modifications. Remove the custom ad blocker rule(s) and the page will load as expected.