"Named after the first Troop member who spotted the creature in 1345 - Icelander, Lars Langarfljots. Actually, Lars was swallowed by the lake worm the moment he spotted it. It was Lars' second day as a Troop member. His is currently known as the third shortest tenure in Troop history. Since then, the Langarfljots worm has been discovered to love the taste of venison. Unfortunately for Lars, he had a satchel of deer jerky in his pocket when he was eaten."
―The Troop official site's description of the Langarfljots Worm
Langarfljots Worm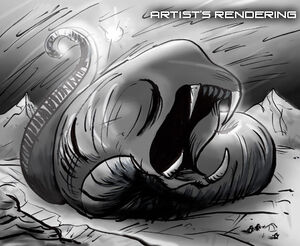 Appearance(s):
None
Height:
150 ft and up
Weight:
1500 tons
Special Abilities:
Aquatic maneater
The Langarfljots Worm is a giant, worm-like monster, named after Lars Langarfljots; the Troop member who first discovered the species in 1345. The Langarfljots Worm lives in lakes, and loves the taste of venison.
Ad blocker interference detected!
Wikia is a free-to-use site that makes money from advertising. We have a modified experience for viewers using ad blockers

Wikia is not accessible if you've made further modifications. Remove the custom ad blocker rule(s) and the page will load as expected.