Lee Stanley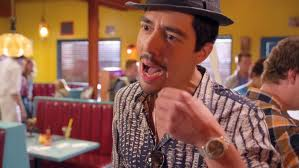 Species:
Human
First Appearance:
Potrayed by:
Zak Santiago
Likes:
Money
Dislikes:
TBA
Family:
No known relatives
Other Relationships:
Unknown

Lee Stanley is Jake's comic hero. He is shown to be cheap and have money for himself. Jake and Etienne both love his comics and are extreme fans of him. After watching Jake and Hayley defeat a Reflecto Luponis, he was about to make a deal with Jake in selling his comic, but Hayley Snarked him.
According to the Scaph Brothers in Vampsters, a comic book idol called Lee Stanley was a Vampster. However, the Lee Stanley seen in Mirrors did not possess the Vampsters' buck teeth, and was able to get Snarked, whereas monsters are apparently immune to Snarking.
Ad blocker interference detected!
Wikia is a free-to-use site that makes money from advertising. We have a modified experience for viewers using ad blockers

Wikia is not accessible if you've made further modifications. Remove the custom ad blocker rule(s) and the page will load as expected.