Lost in Translation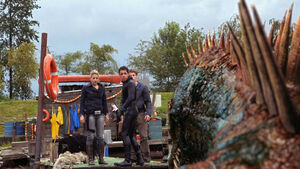 Season:
1
Episode:
9
Director:
Peter Lauer
Writer:
Thomas W. Lynch
Original air date:
November 20, 2009
Production No:
111
Previous Episode:
Next Episode:
A Troop from Japan arrives to share monster-hunting techniques with the Lakewood Troop, but cultural differences complicate everyone's attempts at defeating the elusive Borlak.
The episode starts with The Troop trying to hunt the Borlak. Then the Borlak hits them with liquid that disengrates their clothes. Felix and Jake turn around to see Hayley naked. They find Hayley looking sexy and says: "Take a good look." They put on some different clothes, and then mister Stockly tell them the Japanese Troop are coming to help them hunt the Borlak. The Lakeside Troop go to the high school then as they go to the base they find the Japanese Troop they start the hunt. The Lakeside Troop get clothes, they put on goggles then go in a building from a hole trying to hunt the Borlak and track it at the bridge. The Lakeside Troop see it and  they throw a red net on it. Then two of the the Lakeside Troop and the Japanese Troop fire at the Borlak then all of their clothes disengrates. The Japanese Troop say goodbye, and then Mr. Stockly asks what's going on. He says to them that the Dutch Troop came. The episode ends with Felix saying: "Not the Dutch!"
Appearances
Edit
Characters
Edit
Ad blocker interference detected!
Wikia is a free-to-use site that makes money from advertising. We have a modified experience for viewers using ad blockers

Wikia is not accessible if you've made further modifications. Remove the custom ad blocker rule(s) and the page will load as expected.