Mazie Nackamora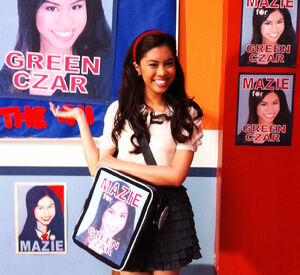 Species:
Human
First Appearance:
Potrayed by:
Ashley Argota
Likes:
Winning
Getting what she wants
Dislikes:
Losing
Family:
Mr. Nackamora (father)
Other Relationships:
Kirby Bankroft Cadworth III (rival)
Cadence Nash (rival)
Mazie is a mean girl who competed against Kirby for Green Czar. She often wins things. When Kirby let her win for Green Czar it turns out the Green Czar's job is composting. She is only seen in Road Trip.
She is the mean daughter of the mayor of Lakewood, and is shown to be a victory hog and a spoilt brat. She also appears to win most things by cheating, as she sabotaged Kirby's attempts to become Green Czar, and then later used the incidents her sabotage caused to make Kirby seem like a bully.
Mazie is portrayed by Ashley Argota.
Ad blocker interference detected!
Wikia is a free-to-use site that makes money from advertising. We have a modified experience for viewers using ad blockers

Wikia is not accessible if you've made further modifications. Remove the custom ad blocker rule(s) and the page will load as expected.