"Well I guess I got inspired"
―Morgan to Kirby in Start Me Up
Morgan Gray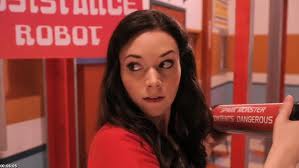 Species:
Human
First Appearance:
Potrayed by:
Carmen Lavigne
Likes:
Kirby
Dislikes:
Unknown
Family:
No known relatives
Other Relationships:
Kirby Bankroft Cadworth III (crush)

Morgan is an innnocent girl who Kirby thought tried to beat him at everything but it turns out she was just trying to impress him. In the end the two shared a kiss. She is also a part of the Troop.
Relationships
Edit
She appeared to have a crush on Kirby and tried to impress him by doing everything he did. However, Kirby mistook this as attempts to annoy him until he discovered Morgan's actual reasons.