"This creature plagued most of the Troops of Ancient China for nearly 150 years (some say a large nest of them arrived and bred quickly). While they were easy to defeat, their habit of eating family pets and unattended children proved to be extremely troubling. It wasn't until a massive effort to eradicate the Orang-Bati occurred that the last of these nasty creatures was defeated. With the exception of a brief outbreak over two thousand years later in Mongolia, the Orang-Bati has never been seen in modern times."
―The Troop official site's description of Orang-Bati
Orang-Bati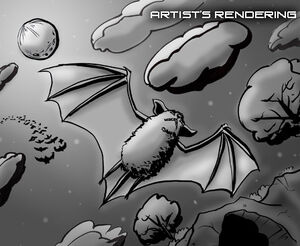 Appearance(s):
None
Height:
4 feet
Weight:
Unknown
Special Abilities:
Winged
Quick
Carnivorous

Orang-Bati are bat-like monsters which eat pets and unprotected children. They plagued Ancient China for 150 years until the infestations were eradicated. Since then, there have been no Orang-Bati incursions except for a brief outbreak in Mongolia.
Ad blocker interference detected!
Wikia is a free-to-use site that makes money from advertising. We have a modified experience for viewers using ad blockers

Wikia is not accessible if you've made further modifications. Remove the custom ad blocker rule(s) and the page will load as expected.