Snarked Up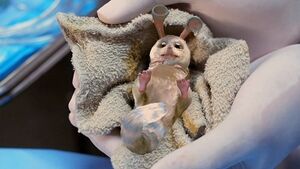 Season:
1
Episode:
15
Director:
J.B. Sugar
Writer:
Harry Hannigan
Original air date:
April 16, 2010
Production No:
118
Previous Episode:
Next Episode:

Jake Hayley and Felix locate a griffin at a local carnival harrasing ranchers and stealing their cows while they attempt to shoot it the people see their fight against the griffin. When jake snarks them the snark comes out of its box it bites jake making his neck look weird. Jake realizes the snark wants to come out so he goes to troop hq to get it out. After the snark comes out Mr Stockey reminds Jake that the snark is now his son and he has to raise it until it can continue on its own. Jake names his son Elroy. Meanwhile at troop hq Hayley and Felix get armed up for their fight against the griffin Jake begins to get frustrated because raising elroy is hard But when his son is danger by the griffin Jake Saves him And brings him back to HQ to be sent to the Finland Troop and Jake learns what its like to be a parent
Appearances
Edit
Characters
Edit
Ad blocker interference detected!
Wikia is a free-to-use site that makes money from advertising. We have a modified experience for viewers using ad blockers

Wikia is not accessible if you've made further modifications. Remove the custom ad blocker rule(s) and the page will load as expected.