Swarm Monsters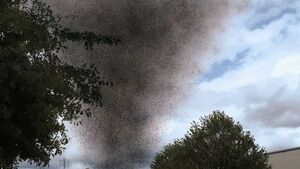 Appearance(s):
Height:
1/4 1- 1 Inch(es)
Weight:
Less then a pound
Special Abilities:
Turns People in to Happy Zombies
Hive Monster offspring
Form swarms miles across

Swarm Monsters are the spawn of Hive Monsters.
When a Hive Monster appears near Lakewood, its Swarm Monsters attack and invade the town, infecting virtually everyone there but Jake, Hayley and Felix and turning them into happy zombies. When the Swarm's victims' brains begin to melt due to the Swarm Monsters' presence in their brains, Jake, Hayley and Felix track down and destroy the Hive Monster, killing the Swarm and reverting their victims to normal.
Appearence
Edit
Swarm Monsters look like a massive swarm of black insects.
Special Abilities
Edit
Swarm Monsters invade people's brains and turn them into happy zombies. But after a while, the victim's brain begins to melt, resulting in the victim's death if the Swarm isn't stopped soon.
Weaknesses
Edit
If a Hive Monster is destroyed, its Swarm Monsters die with it. Vespinox inoculations also act as inoculations against Swarm Monsters.
Ad blocker interference detected!
Wikia is a free-to-use site that makes money from advertising. We have a modified experience for viewers using ad blockers

Wikia is not accessible if you've made further modifications. Remove the custom ad blocker rule(s) and the page will load as expected.