Tentacle Face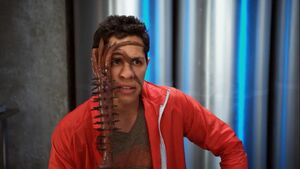 Season:
1
Episode:
8
Director:
Jon Rosenbaum
Writer:
Julia Ruchman
Original air date:
November 13, 2009
Production No:
109
Previous Episode:
Next Episode:
Jake meets his monster-hunting hero, but discovers he is outgrowing his ability to capture the ultimate monster which he has been chasing his whole career. Meanwhile, the tentacle of a Kaiju gets stuck to Felix's head, and he must get it off before he has his school picture taken.
to be added
Appearances
Edit
Characters
Edit
Ad blocker interference detected!
Wikia is a free-to-use site that makes money from advertising. We have a modified experience for viewers using ad blockers

Wikia is not accessible if you've made further modifications. Remove the custom ad blocker rule(s) and the page will load as expected.